Small Business, Executive and Life Transition Coaching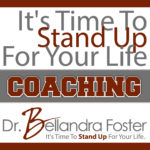 Balancing and prioritizing life and family as an entrepreneur or executive can be very difficult. Being a business owner can be very intimidating, especially if you don't have someone to stand with you to help guide and encourage you towards success. As a coach, I love to work with aspiring and experienced business owners to create and operate their own successful business. I am a member of the International Coach Federation (ICF) and specialize in small business, executive and life transition coaching. As a successful entrepreneur I know the art of starting and operating a successful and profitable business. I founded my first business in 1997 as the mother of two young sons. I grew my consulting business from earning $0 to six figures in under a year. The consulting company I founded won its first million dollar contract 10 years ago.
Allow me to utilize my years of experience as an award winning entrepreneur and executive to be your small business, executive or life transition coach. My signature programs provide Key Strategies to Triumph in Business and at Home!

The TOP 3 Questions Asked by Small Business Owners
Producing Successful Proposals that WIN Jobs!
For Love and Money: 7 Guidelines for Achieving Success in Your Home and Business
Confident YOU
Business Mentoring 101: Learn Tips of the Trade from an Award Winning Master Entrepreneur! Learn How to (Legally!) Make a Profit on Every Job and Stay in the Black
Navigating the Transitions of Life: The 7 P's of Success: Perform, Plan, Position, Power, Productive, Prosperity and Purpose
Courage Risks and Rewards
Home Mentoring 101: Make Your Home a Sanctuary…Peace at Home, Peace at Work
As your coach, I am committed to an ongoing, intentional relationship that will empower you to fully accomplish your calling.
It will be my goal to help you :
◉ Discover options to determine the best course of action for your goals
◉ Be inspired to make progress, take action and increase company profits
◉ Create the best action plan by engaging your own intuition
◉ Initiate action steps that will move you forward to long term success
◉ Consider various perspectives and outcomes to develop the best plan for triumph in business and at home
◉ Increase your confidence that ultimate success is not only possible, but probable for YOU
◉ Utilize my knowledge as a resource for your ongoing success
◉ Avoid getting "stuck" and never give up
◉ Successfully navigating life's transitions and embrace new beginnings
◉ Know when "It's Time to Stand Up For Your Life" to Triumph in Business and at Home
If you're ready to have ultimate success as an entrepreneur, trust me to show you how!

Schedule your 20 minute strategy session today to discuss your path to triumph as an entrepreneur and executive as you navigate the transitions of your life.
Upon the conclusion of our strategy session, you will have an action checklist to move you forward towards the success you desire in business and at home.